Proposed About Grandparents for Gun Safety
The founding of Grandparents for Gun Safety
Grandparents for Gun Safety was founded in 2013, in the wake of the lack of Congressional action following the Sandy Hook shooting that claimed 27 victims, 20 of which were children.
Since the very beginning, we have emphasized education, safety and the need for common ground gun reform, including universal background checks, waiting periods for gun purchases and other reforms to reduce the danger of gun violence.
Our Position on Second Amendment Rights
We respect the Second Amendment of the U.S. Constitution and the right of individuals to bear arms, which was upheld by the U.S. Supreme Court in 2008 with its landmark D.C. v Heller ruling.
We also take to heart the cautionary words of the late Justice Antonin Scalia who wrote in the Heller decision:
"Like most rights, the right secured by the Second Amendment is not unlimited … Nothing in our opinion should be taken to cast doubt on longstanding prohibitions on the possession of firearms by felons and the mentally ill, or laws forbidding the carrying of firearms in sensitive places such as schools and government buildings, or laws imposing conditions and qualifications on the commercial sale of arms."
The History of GGS
Over the years, the organization has evolved in both focus and name.
The first name change came in 2015 when Grandmothers made way for Grandparents Against Gun Violence to recognize and encourage inclusion of male members. The name changed again in 2021 to Grandparents for Gun Safety, Stand With Us! to more clearly emphasize our collaborative vision that all members of our community have the right to feel safe from gun violence.
The introduction of Lock It For Love
As the organization's name evolved, so did its primary focus, from pressing for changes in gun legislation to the more immediate need for gun safety.
To meet that need, we began Lock It For Love (LIFL), our signature program of distributing thousands of free gun locks and educational materials about safe storage of firearms. Through LIFL, we strive to have a direct impact on preventing suicides as well as accidental deaths and injuries by limiting access to firearms.
The Heartland Coalition Against Gun Violence
In 2014 we began another proactive program, the Heartland Coalition Against Gun Violence, comprised of like-minded groups in both Kansas and Missouri concerned about the spread of gun violence and its effects on the metro area.
Annual Community Forums on Gun Safety
Each year, we and the Coalition host a Community Forum to educate the public about the many facets of this issue. Forum attendance and sponsorships help fund LIFL and other GGS activities.
The first six Community Forums were hosted in person and featured nationally recognized keynote speakers including Pulitzer Prize-winning columnist Leonard Pitts, Jr., Nicole Hockley, whose son Dylan was killed at Sandy Hook, and Candace Lightner, founder of Mothers Against Drunk Driving.
In response to the pandemic, Forums in 2020 and 2021 were held virtually. In 2021, keynote speaker, Megan Ranney, MD, MPH, an emergency room physician and nationally recognized epidemiologist, spoke about the public health epidemic of gun violence and the strategic steps used to help curb it.
This year marks the 10th Community Forum with its theme of Gun Safety: Generations Standing Together. GGS believes people of all ages have the right to feel safe from gun violence and is committed to working across generations to achieve that goal. Brandon Wolf, a 34-year-old survivor of the mass shooting at Pulse Nightclub in Orlando, FL, will be the keynote speaker on Monday October 9, 2023. He joins an impressive list of nationally-known speakers who have shared their stories and visions for gun safety at previous Forums. https://grandparentsforgunsafety.org/community-forum/
By working together, we believe we can make progress to achieve safety from firearms. Our tag line of Stand With Us! invites people of all ages and political outlooks to join us in our efforts and reflects our commitment to stand with others as well.
Grandparents for Gun Safety Board of Directors
Officers
(Click title – names below for full bio.)
President & Founder – Judy Sherry
Judy is an award-winning advertising professional with more than 40 years of business experience in the Kansas City community.
After co-founding, then leading Montague-Sherry Advertising for 12 years, she eventually formed the Judy Sherry Consortium of professionals in the marketing and communications fields.
An honor roll of local and state organizations has recognized Judy's talents and commitment, ranging from the Ad Club of Kansas City (its 1997 Silver Medal for contributions to the field), AARP (its 2014 Missouri Andrus Award for Community Service),
Mainstream Coalition (its 2017 Stand Up Speak Out Award) and even Major League Baseball (The Kansas City Royals' Buck O'Neil seat in 2018).
Over the years Judy has been a prolific fundraiser for a variety of nonprofits including KCUR Public Radio and the AIDS Walk Kansas City. She's also volunteered at the Food Pantry of Jewish Family Services of Kansas City, the KCMO Public School District and the National Council of Jewish Women Greater Kansas City Section.
Originally from Chicago, Judy graduated from the University of Missouri and has lived in Kansas City since 1960. She and her husband Steve of 61 years have two children and four grandchildren.
Secretary/Treasurer – Jan Brunks
After decades working as an executive assistant at the University of Kansas Medical Center, Jan brings a wealth of experience to her role as GGS's secretary-treasurer.
Her 40-year career at the medical center was concentrated in its department of orthopedic surgery where she served the department's chair and coordinated its residency program. She retired in 2017.
Her interest in GGS started with a Lock It For Love event and led to recognition as Volunteer of the Quarter in 2020. Before joining the Board, Jan staffed the GGS office coordinating LIFL sign-ups and materials, managing Community Forum mailings and tracking inventory of GGS spirit wear.
Jan's a member of the Johnson County League of Women Voters, concentrating on voter registration, and has been a poll worker the past five years for the Johnson County Election Office. She was also active in the Shawnee Mission School District's PTA during her children's school years. Her daughter is a nurse at KU Med Center and her son works in the oil and gas industry in Houston. Jan also has four grandchildren.
Advocacy Committee/Annual Forum – Carla Oppenheimer
A native Kansas Citian and an attorney, Carla is also a former federal prosecutor who taught criminal justice and criminology for 10 years at the University of Missouri-Kansas City, her alma mater.
As a federal prosecutor for the Western District of Missouri, Carla focused on white collar crime and later worked as a civil attorney in bankruptcy and landlord tenant litigation.
Along with her professional career, Carla has been an active volunteer in a wide range of community organizations. She serves on the local boards of The Whole Person, the Good Faith Network and the National Council of Jewish Women-Kansas City section where she was also president. Carla also volunteers at Happy Bottoms, Nourish KC, the Food Pantry at Jewish Family Services and the KC Pet Project.
The Heartland Coalition Against Gun Violence, a program of GGS, co-hosts the annual Community Forum on gun violence prevention, and Carla chairs its planning committee.
She and her husband Scott have lived in Leawood for 25 years and have three grown children.
Communications Committee – Carol Gee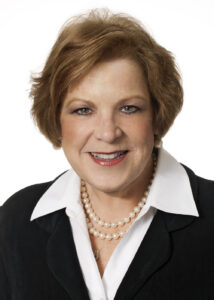 Carol Gee enjoyed a storied 40-year career in branding and communications including 25 years at DuPont, a perennial member of the Fortune 500 and now operating as Dow DuPont.
As its global brand manager, Carol helped DuPont build its LYCRA and CORIAN brands into consumer icons recognized around the world. She later left DuPont to join a fellow DuPont executive when he became CEO of glass packaging manufacturer Owens-Illinois in Toledo, OH. She served as its chief communications officer for five years.
During her years in Toledo, Carol served on the boards of United Way's Women's Initiative Board, the Black Swamp (land) Conservancy, the Toledo Hospital Foundation and the Way Library Foundation.
An advertising graduate of the University of Missouri's School of Journalism, Carol moved to Kansas City to be closer to her two sisters after retiring in 2014. Her volunteer career, however, has continued. She serves as a board member of the Unicorn Theatre, a trustee for Lincoln College in Lincoln, IL, a Deacon at Village Presbyterian Church and communications chair for Grandparents for Gun Safety.
Lock It For Love/Development – Barb McNeile
Barb's skills of meticulous organization and attention to detail as a former executive director of another all-volunteer nonprofit helped bring to life Lock It For Love, GGS' signature educational program for the safe storage of firearms. Her marketing background has bolstered GGS fundraising and development efforts as well.
A native Kansas Citian, Barb graduated from the University of Missouri with a bachelor's degree in business administration and later a master's in the same field from Saint Louis University. Her business career included 14 years with AT&T in Kansas City and St. Louis plus another 13 years in real estate with Prudential Kansas City Realtors.
Barb's years of volunteering and holding leadership positions span a broad spectrum in the community including the Pinehurst Estates Homes Assoc., every level of PTA in the Shawnee Mission School District, the University of Southern California's KC Parent/Alumni Chapter, United Way of Greater Kansas City and her ongoing involvement with the Johnson County Christmas Bureau, where she was executive director for four years.
She and Jim, her husband of 42 years, have two sons and two grandchildren all living in California.
Program Committee – Julie Young
Leading the committee that presents GGS monthly programs, Julie brings many skills of the teacher she was for 22 years. The committee generates ideas for topics, engages relevant speakers, organizes discussion panels and plans the format each program will follow.
During her career in education, Julie taught 5th grade in Kansas City, KS, then taught 5th grade and English as a second language in school districts in Illinois and Iowa.
She earned a bachelor's degree from Ottawa University plus a master's degree from the University of Kansas, both in education.
For three years Julie worked as executive secretary-treasurer of the Shawnee Mission Meals on Wheels program. She oversaw an operation of about 40 volunteers who delivered regular meals to some 70 clients five days a week.
Julie also serves as an elder at Rolling Hills Presbyterian Church, chairs its adult education committee and jointly leads its racial justice group.
She and her husband Tom of 54 years returned to Overland Park in 2013. They have a son, a daughter and five grandchildren.
Membership/Volunteers – Joan Jacobson
Joan is a retired French teacher and high school counselor whose passion has always been working with children of all ages.
She grew up in Northbrook, Illinois, and received a bachelor's degree in French and English Education from the University of Wisconsin-Madison and a master's degree in School Guidance and Counseling from Northeastern Illinois University in Chicago. Joan's 38 years in education included teaching and counseling positions in Northbrook and the Shawnee Mission School District.
As in teaching, Joan's volunteering has focused on improving children's lives. She has mentored underserved children, advocated for children in the court system as a CASA volunteer and promoted gun safety through GGS. School settings are her favorite work environment where she's given presentations on bullying to young children and on dating violence to teens.
She and her husband Alan have lived in Overland Park since 1977. They've been married 50 years and have two children and three grandchildren living in Denver, Colorado.
At Large Member – Lisa Veglahn
Lisa's professional skills and personal commitment have helped a variety of nonprofits grow in fundraising and programming in the fields of health, education, community service and the arts.
In 2001 she began working for the Hospice Foundation of America and is now its senior vice president for education. She also serves as managing editor of its print publications and website content for consumers and professionals.
At the same time, she's also worked as a nonprofit development consultant, writing and editing grant applications. Her current and/or previous nonprofit clients have included the Religious Coalition for Reproductive Choice, Sesame Workshop, Mid-America Arts Alliance and Theatre for Young America, among others.
A Kansas City native and graduate of Shawnee Mission East High School, Lisa received her undergraduate degree in English from Grinnell College and later a master's in fine arts in theatre administration from the Yale School of Drama. She returned to the area in 2001 and has served on the boards of the Coterie Theatre and Mainstream Coalition plus various committees at Village Presbyterian Church.
Her son and daughter attend Tufts University in Boston.
At Large Member – Maribeth Brennaman
Maribeth's commitment to service began with her community-minded family in Ottawa, KS, and which led in part to her majoring in social work at Baker University. That same desire to improve peoples' lives continues today with her helping the homeless through the volunteer-driven Free Hot Soup and serving on GGS's communications and Community Forum planning committees.
Maribeth's other volunteer efforts have included PTA when her three adult daughters were students in public schools, the Johnson County Christmas Bureau, Johnson County Young Matrons and Kansas City River of Refuge, which provides transitional housing, counseling and job training for homeless families. She's also involved with StageworX, a performing arts summer camp in Olathe that helps build character in students from kindergarten through high school.
In addition to her community involvement, Maribeth works fulltime as an outside sales representative for General Mills. She and her husband Alan live in Shawnee.