From Judy Sherry, GGS Founder and President:
As the saying goes, there's good news and bad news.
Let's get the bad news out of the way first. On June 23, the U.S. Supreme Court overturned New York state's 109-year-old gun control law. The decision nullifies the need to provide a reason to obtain a concealed carry permit for a handgun. Clearly, that will mean more guns everywhere, which will lead to more deaths by homicide, suicide and accidental deaths.
The good news is President Biden signed the Bipartisan Safer Communities Act on Saturday June 25. This is the first piece of gun reform legislation to be passed in almost 30 years. Finally, Congress has taken a step toward solving our country's gun violence epidemic. That's cause for celebration!
While the new legislation doesn't have everything we wanted, it does include some positive steps. Most significantly, it closes the "boyfriend loophole" and now bars continuous dating partners, not just married spouses, convicted of domestic abuse from owning firearms.
The new law also more clearly defines a federally-licensed gun dealer, creates federal penalties for gun traffickers and "straw purchasers," increases funding for states to expand their mental health programs and train more mental health workers and provides money for school crisis intervention programs and other school safety measures.
Predictably, U.S. Senators Jerry Moran, Roger Marshall (KS) and Josh Hawley (MO) did not vote for the bill. Even though they consistently fail to act, our elected officials must continue hearing from us – by phone, email, letter and in person. If not, our silence is deafening.
So, thanks to everyone who responded to last week's Action Alert with calls and emails. And to those who attended June's meeting and took postcards to write and mail, thank you, too. We'll continue advocating for secure storage, universal background checks plus a ban on assault weapons and large capacity magazines.
Remember: a clear majority of the public supports these reforms. With hard work, informed and consistent voting and lots of letters and calls, we will succeed. All it takes is tenacious advocacy, and that we can do!
Getting Smarter About Guns and Legislation: We need to know.
GGS Monthly Meeting & Program

Monday, July 25
4:00 – 5:30 pm
Colonial Church in Prairie Village
7039 Mission Road
Is there a difference between a handgun and a pistol? A shotgun and a rifle? What makes a weapon automatic? What exactly is an assault style weapon? It's important we know the basics about firearms we want controlled so we can communicate effectively with our legislators and each other.
John Ham, Public Information Officer in the Kansas City Field Division of the Bureau of Alcohol, Tobacco, Firearms and Explosives will display and explain a variety of lethal firearms, including ghost guns and assault-style weapons. Kansas State Rep. Stephanie Clayton will discuss why legislation to better control those weapons has been nearly impossible to enact.
Join us at July's meeting to learn more about firearms and the legislative hurdles to make them safer.

Pros Know How to Make Your Vote Count
Confirm your registration. Vote in all elections, not just the one that picks the President. Convince your own friends and families to vote. Light a fire under first-time voters.
At June's meeting some 70 attendees heard that and more from professionals working to get out the vote, in the August primary and in November's general election. Speakers included Michael Poppa, Executive Director of the Mainstream Coalition; Lindsay Ford of Mainstream's Voter Network Project, and Anita Austin, Program Director of Loud Light in Topeka that focuses on engaging young people. Lindsay provided an excellent flyer with important information about the August 2 primary. See it here.
Some 100 postcards and sample messages were also distributed to attendees to thank or spank elected officials. To reinforce the point, a powerful one cent UN stamp was added to the postcard's regular postage.
Thanks went to U.S. Representatives Sharice Davids (KS) and Emanuel Cleaver (MO) who voted for the newly-passed Bipartisan Safer Communities Act gun legislation. U.S. Senators Jerry Moran and Roger Marshall (KS) along with Josh Hawley (MO) earned spanks for their opposition.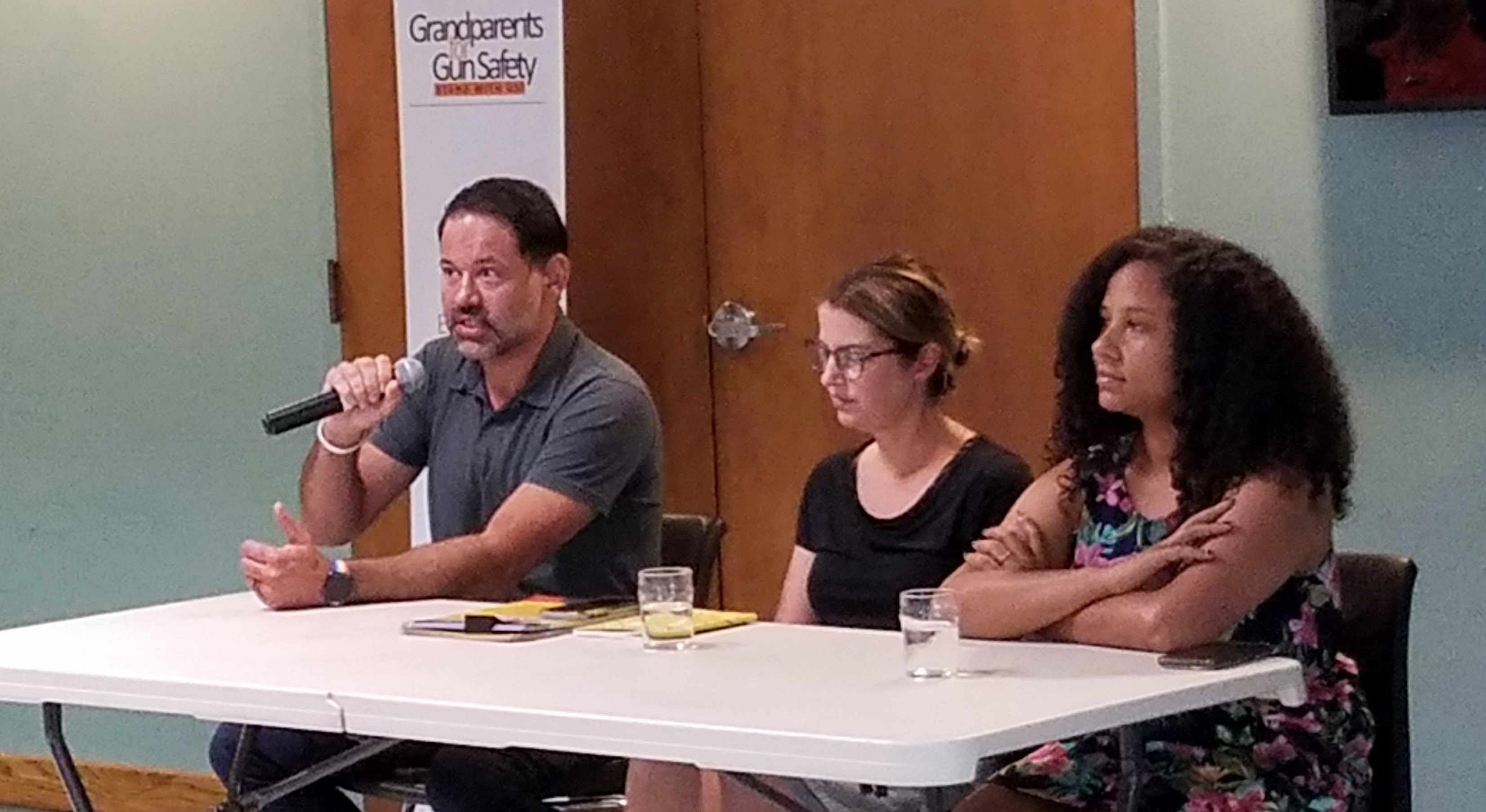 At June's meeting, Michael Poppa, Lindsay Ford and Anita Austin highlighted the importance of voting. Watch the meeting here.
Grandparents For Gun Safety in the News
Nearly 100 supporters in orange turned out last month at Mill Creek Park to observe National Gun Violence Awareness Day with signs and placards calling for reform. The three-hour event on June 3 drew the interest of reporters from all four local TV stations, and the Kansas City Star published an excellent story and photo. Read it here.

Grandparents members and guests, plus a young friend representing AdHoc Group Against Crime
A week later, members of Grandparents for Gun Safety participated in the March For Our Lives rally at Gillham Park. Judy Sherry, Grandparents founder and president, was a featured speaker at the June 11 event. Read her remarks here.
In just five years, the number of do-it-yourself ghost guns recovered from crime scenes nationwide has increased 11-fold, according to The Trace newsletter.
In 2016, police recovered 1,758 ghost guns; the number jumped to 19,344 in 2021.
Speaker added to 9th Annual Community Forum on Oct. 10
The Michigan state senator whose speech condemning today's toxic political environment went viral will open the annual Forum on gun violence with a videotaped welcome.

Mallory McMorrow became widely known after her impassioned We Will Not Let Hate Win speech was delivered before the Michigan Senate in April. Her entreaty has been viewed over 15 million times on Twitter and catapulted the first-term state senator into the national spotlight. Sen. McMorrow has appeared on several network and cable news programs and has frequently spoken out against gun violence, racism, LGBTQ discrimination and dangerous, hateful rhetoric.

The Forum's keynote speaker is Josh Koskoff. He's the Connecticut attorney who won a record $73 million settlement from Remington Arms for nine Sandy Hook families who lost loved ones in the 2012 mass shooting.
Registration for tickets will be available August 1.
Say Their Names
Following are another 18 lives lost to firearms in the metro area since our last newsletter. That brings the total to 118 homicides since January 1. We say their names while we keep true to our vision that one day everyone in our community will be safe from gun violence.
Mark Your Calendar
Monday, July 4
Happy Independence Day!
NOTE – RESCHEDULED
Monday, July 18
GGS tour of Veterans Community Project's Tiny Homes
11:00 am
8825 Troost in KCMO
Space is limited to 25 participants; to reserve or reconfirm your spot, contact GGS member Mary Conner.
(The original tour date was postponed due to air conditioning problems at the site.)
Monday, July 27
GGS Monthly Meeting and Program
Getting Smarter About Guns and Legislation: We need to know.
4:00 to 5:30 pm
Colonial Church in Prairie Village, 7039 Mission Road
Our Vision
All members of our community have the right to feel safe from gun violence.
Our Mission
We focus on working for solutions, educating the community and seeking common ground reform that respects the rights of gun owners and non-owners alike.
Copyright © 2022 Grandparents for Gun Safety, All rights reserved.
You are receiving this email because you opted in via our website.
Our mailing address is:
Grandparents for Gun Safety
P.O. Box 8617
Prairie Village, KS 66208-0617
Want to change how you receive these emails?
You can update your preferences or unsubscribe from this list.