A Message from Judy Sherry, GGS Founder & President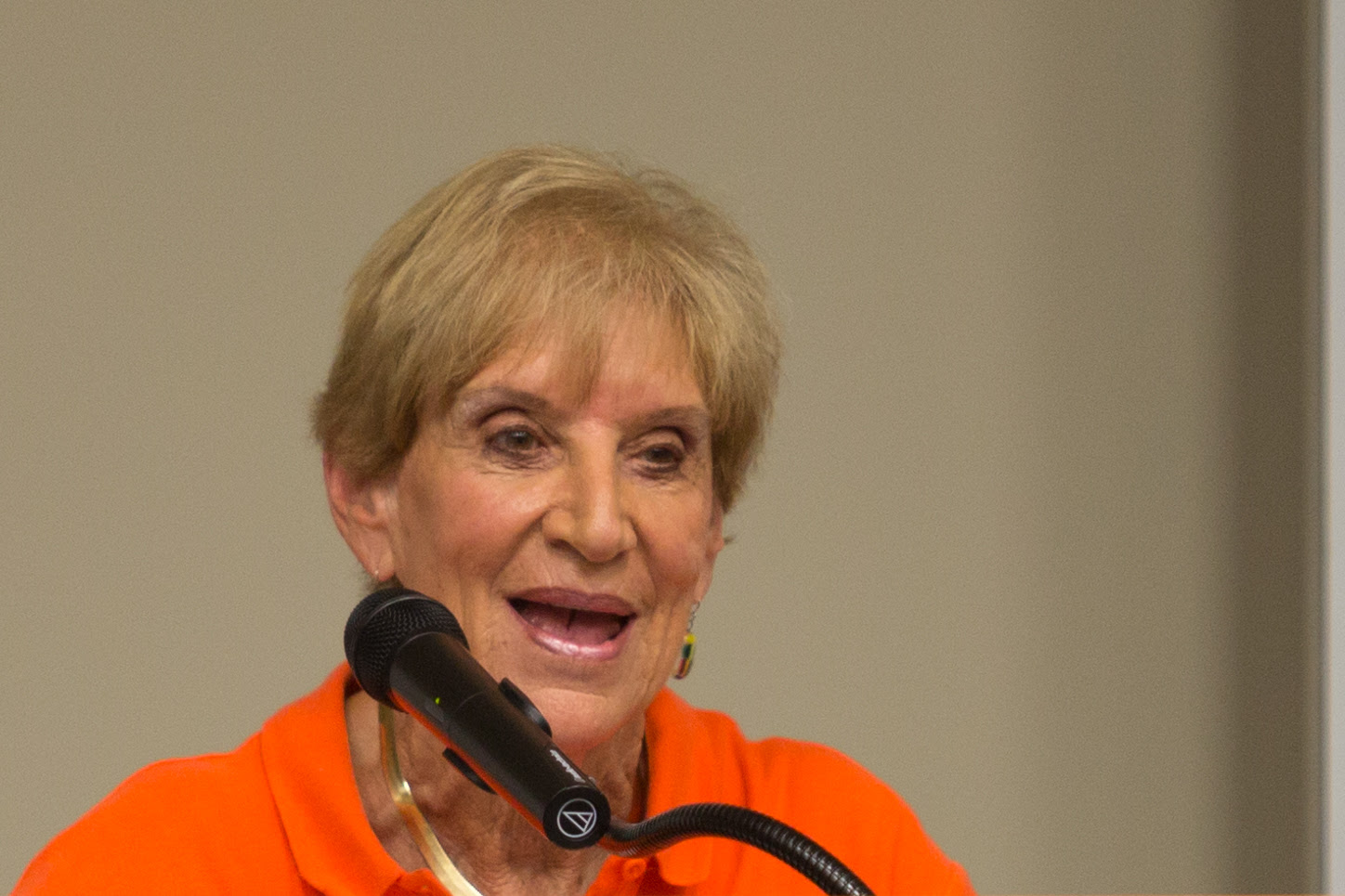 Our participation in last Friday's National Gun Violence Awareness Day and the Wear Orange weekend made me especially proud of Grandparents for Gun Safety. As I often do at similar events, I think about how we can make them bigger and better next year and even the year after that. However, my fervent hope is that one day such events won't be necessary at all. We will have achieved our vision that all people in our community have the right to feel safe from gun violence.
As GGS enters its second decade, I'm optimistic we're on the right road. We're committed to expanding our community reach by working together with like-minded organizations and the Gen Z and Millennial generations to curb gun violence. (Read on about how this year's Community Forum reflects that promise.)
I believe our combined efforts will garner the public's support to demand our elected officials pass common-ground gun legislation that keeps our children, grandchildren and future generations safe. By standing together, we can get it done!
The Good, the Bad, and the Ugly in State Legislation
GGS Monthly Meeting & Program
Monday, June 26
4:00 – 5:30 pm
Colonial Church in Prairie Village
7039 Mission Road
Now-ended legislative sessions in Missouri and Kansas had it all: gun-related proposals that reformers considered good, bad, and even ugly.
Proposed gun legislation that affected school districts' curriculum, public transportation, concealed carry permits, safe storage requirements and criminal negligence of discharging a firearm all crossed legislators' desks this year.
At the June 26 meeting, we'll hear legislators from both states review the 'good' and 'bad' bills that were introduced, retrace the bills' paths to approval or defeat and preview what to expect in the 2024 session: from Missouri, Sen. Lauren Arthur and Rep. Emily Weber; from Kansas, Sen. Ethan Corson and Rep. Linda Featherston.
Join us June 26 in the church sanctuary on the first floor to get the full legislative picture. (Parking is now available on the south side lot and in the back on the east side.)
And speaking of legislation . . .
Our May program explored the ongoing legislative assault on LGBTQ+ rights and how lax gun laws affect that vulnerable community. Kansas State Representative Susan Ruiz, Loud Light Executive Director Melissa Stiehler, and LGBTQ+ activist Hazel Krebs of Kansas City described the discrimination included in legislation, the fears felt by so many in their community and the advocacy support it needs. Find a recording of the meeting here.
A Full Weekend of Education, Advocacy & Participation!
Because a picture is worth a thousand words, these photos reflect a weekend full of GGS' three bywords. Our members struck high profiles at a number of events surrounding National Gun Violence Awareness Day and Wear Orange Weekend and in preceding weeks as well. (Captions below.)
Captions
1: May 20 – A rally at Mill Creek Park drew (left to right) GGS Board member Lisa Veglahn, GGS president and founder Judy Sherry, along with Anna Simpson, co-founder of Lives on the Line, a newly formed non-partisan group working to end gun violence.

2: May 20 – New GGS members Mo and Al Strack with their daughter Paige at the Mill Creek Park rally.

3 & 4: June 3 – The League of Women Voters of Johnson County hosted an educational conversation about gun violence with Jen Day, League vice president; Mark McDonald, deputy director of strategic initiatives of Kansas ACLU, and GGS' Judy Sherry. The event drew a standing room crowd of more than 70 attendees.

5: June 2 – More than 50 people including GGS members and new friends gathered across from the Meadowbrook Park clubhouse to hold signs advocating gun reform and engage interested people. A Family Festival in the park produced good foot and car traffic, and our orange balloons also attracted attention.

6: June 4 – GGS members Ann Weaver and Jan Brunks staffed a Lock It For Love table at the League of Women Voters of Johnson County program.

7 & 8: May 22 & May 24 – Proclamations supporting National Gun Violence Awareness Day were presented to our GGS Board representatives from two Kansas cities. Carla Oppenheimer accepted from Roeland Park and Joan Jacobson from Mission.

9: June 1 – GGS Board member Julie Young along with GGS members Dave and Carole Webster attended KCMO Mayor Quinton Lucas' signing of a proclamation recognizing National Gun Violence Awareness Day.

And in other related activities:
Last Thursday, Judy Sherry spoke to some 25 people attending a meeting of the Southern Johnson County Democratic Women.
On Sunday, GGS joined Moms Demand action in a Community Fair at KCMO's Berkley Park. Other participants were KC Mothers in Charge, Aim for Peace, the Brian Derek Henderson Foundation and Students Demand Action.
Lock It For Love
New contacts in the metro area and more community events mean additional dates and need of volunteers for Lock It For Love and its distribution of free, high-quality gunlocks. Volunteers staffed six events in May alone, bringing total distributions to 5,406 gun locks at 207 different events. We're confident at least one life has been saved by preventing access to an unlocked firearm.

Two Saturday LIFL events are scheduled so far this summer in August and more are anticipated. Watch for a Sign-up Genius email.
Top: Ann Hall along with Linda and Ray Brown get gun locks ready for LIFL distribution. Left: Some of the 432 free gun locks and educational materials assembled on June 1. Right: Kathleen Strange (standing) and Lorene Miller joined in the gun lock preparation.
And in on-going efforts to involve young people, members of the Saint Andrew Christian Church Youth Group stuffed an additional 100 bags with gun locks for our fledgling third party distribution program.
Coming Soon: A New Look for GGS Online Communications
Be ready for some upcoming changes in how GGS keeps you up-to-date. Using a new vendor, GGS will soon offer a Members Only Directory (with an opt-out feature if you prefer), an expanded events calendar and a store for online purchases of GGS spirit wear. The change comes after a year of researching the best ways to keep members informed. Let us know what you think!
Changes in Store for 10th Annual Community Forum
Preparations for a dynamic 10th Annual Community Forum on October 9 are well underway. From a broader theme and keynote speaker to a new time and venue, you'll notice several changes. These changes mean greater expenses, so we're seeking individual and organization sponsors earlier than in previous years. Your early financial support will be much appreciated!
Thank you for considering becoming one of our Stand Together Giving Circle sponsors.
Say Their Names
Eighteen more gun deaths have been recorded since the GGS meeting on May 22. Last year, Kansas City, Missouri, suffered 171 homicides, the second-highest number in the city's history. When including other nearby cities, the metro area recorded 264 homicides in 2022.
We say the names of the 24 victims in the month of May, including a 6-year-old boy, as a way to honor their lives while we keep true to our vision that one day everyone in our community will be safe from gun violence.
Mark Your Calendar
June is Pride Month
Wednesday, June 14 – Flag Day
Sunday, June 18 – Father's Day
With love & appreciation to all our GGS dads and granddads.


Monday, June 19 – Juneteenth
A federal holiday since 2021 that recognizes freedom from slavery in the U.S.
Monday, June 26
GGS Monthly Meeting & Program
The Good, the Bad, and the Ugly in State Legislation
4:00 to 5:30 pm
Colonial Church in Prairie Village, 7039 Mission Road
Meet in the first floor sanctuary.
Our Vision
All members of our community have the right to feel safe from gun violence.
Our Mission
We focus on working for solutions, educating the community and seeking common ground reform that respects the rights of gun owners and non-owners alike.
Copyright © 2023 Grandparents for Gun Safety, All rights reserved.
You are receiving this email because you opted in via our website.
Our mailing address is:
Grandparents for Gun Safety
P.O. Box 8617
Prairie Village, KS 66208-0617
Want to change how you receive these emails?
You can update your preferences or unsubscribe from this list.