Homes for Vets: Working to Serve Those Who Served
GGS Monthly Meeting & Program
Monday, March 28
4:00 – 5:30 pm
Colonial Church in Prairie Village
7039 Mission Road
Please note: Based on CDC COVID-related protocols, we are ready (and excited) to meet in person with those who feel comfortable, are vaccinated and optionally masked. For others who are not quite ready, we'll also provide a Zoom link Saturday, March 26.
In the last of our series on the dramatic impact homelessness has on gun violence, particularly on crime and suicide, we focus this month on the challenges some local military veterans face after their service.
Our March program will feature Michele Orpin, director of development for Veterans Community Project-KC, who will discuss its efforts to meet the myriad needs of veterans. Among its many services is the Tiny Home Village, the Project's signature program at 89th and Troost that offers temporary housing to homeless veterans easing back into society. The concept of tiny homes for vets has received national recognition and has been adopted by other cities as well.
Michele, who comes from a military family, brought her business background in marketing and communications to use in promoting the Project's diverse services. Those include helping vets deal with the Veteran's Administration, arranging referrals for physical and mental health needs, offering financial counseling, providing employment support and operating a food pantry,
Join us March 28 and learn more about what's being done for those who have served to minimize some of the risk factors they face that can lead to gun violence.
GGS Members Add Another G to the Name: Generous
After January's GGS program about the vital work being done for the homeless by local volunteers with Free Hot Soup (FHS), our members responded enthusiastically.
Coats and jackets, blankets and sleeping bags, new and gently used clothing, food and personal care items and much more were donated at our February 9 drop-off event at Colonial Church and also delivered directly to or picked up by GGS member and FHS volunteer Maribeth Brennaman.
"We were overwhelmed by the outpouring of support," Maribeth said. "It was a great example of organizations standing together to accomplish good things."
The need is ongoing. Email Maribeth with items to donate or consider ordering from the FHS Wish List of ongoing needs.
These photos illustrate the magnitude of GGS donations.
Here's just a portion of GGS donations collected on February 9. The Free Hot Soup storage unit was packed to capacity!
Member Spotlight: Al Frisby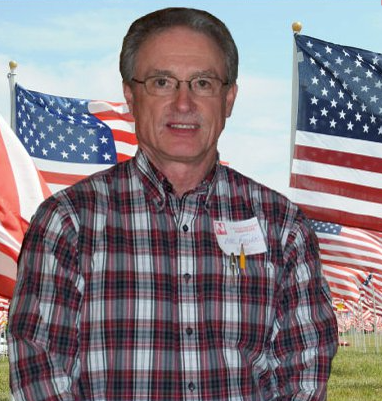 GGS members are both interested and interesting people. This month the Member Spotlight shines on Al Frisby, a longtime community activist and a gun owner as well.
At William Chrisman High School in Independence, Al was a member of its rifle team. He has hunted rabbits with a .22 rifle and also owns a .22 Luger. His daughter and son-in-law are gun owners, too. Of course, all the firearms are locked.
"Volunteering with Lock it For Love has been the most rewarding part of being involved with Grandparents," Al said of GGS' free gun lock program. "I talk to people about the importance of gun locks, and if they need them, we've got them to give. We're doing what we can to protect the people who need protecting in our community."
That community spirit has fueled Al's careers in activism and education. He spent 37 years teaching high school biology, anatomy, physiology and chemistry at Shawnee Mission Northwest and Liberty High Schools, was recognized with multiple awards from students and colleagues and in 2012 was inducted into the Mid-America Education Hall of Fame.
Al's own education includes bachelor's and master's degrees in biology and instruction.
While in the U.S. Army, he was also trained in neuropsychiatry to help soldiers with drug problems returning from the Vietnam War.

For 15 years, Al chaired the Johnson County, KS, chapter of MoveOn when its membership reached 1,000. Later he served eight years on the city council of Merriam, KS, where he and his wife of 54 years, Linda, live.
"With four grandchildren, I think this organization is important," Al said of GGS, where he also helps with programming. "We all need to stand up and speak out to condemn gun violence wherever we see it."
Send us your suggestions for a member to spotlight!
Meet Our New Executive Assistant!
We're delighted to announce the hiring of GGS' first staff member: Katie Cangelose, who will provide parttime administrative support to our Board and committees.
Katie comes to GGS with 10 years of administrative experience in both the business and nonprofit worlds. She received her bachelor's degree in child and family development from Missouri State University in Springfield, graduating cum laude in 2003.
"Nonprofit work is really where my heart is," Katie said. "I'm drawn to companies and organizations that are trying to do good in the world."
She and her husband Andrew, an educator and former middle school principal, have two sons and two daughters ranging in age from 14 to 3. The family's last name is pronounced can-juh-LOW-see.
Katie's first day is Tuesday, March 1. She'll be in the GGS office at Colonial Church from 10:00 am to 2:00 pm every Tuesday for members to pick up LIFL supplies, printed materials, signage and SWAG. Come by to meet Katie and say hello!
50%
That's the percentage increase of gun deaths of children 14 years old and younger from the end of 2019 to the end of 2020.
– From the CDC as reported by Giffords Law Center to Prevent Gun Violence
Thank You… Now Positions to Fill
A grateful Thank You goes to two longtime officers who are leaving the GGS Board of Directors after serving many years: Charlotte Davison, secretary, and Lona Harris, treasurer.
To fill their positions, we're currently seeking recommendations and/or volunteers for secretary and treasurer plus a chair for the development committee. We know many GGS members have the skills to assume these roles and keep the organization strong and growing. Step up yourself or recommend others you know inside GGS or in the community who might be interested and qualified.
Say Their Names
These are the 17 lives lost due to firearms in the Kansas City metro area since our last meeting bringing the total to 38 homicides since the beginning of the year. We say their names while we keep true to our vision that one day ALL people in our community will be safe from gun violence.


What Do You Think About Our Newsletter?
Along with last year's name change came changes to our monthly e-newsletter. We think you've noticed because the newsletter registers a reader open rate averaging nearly 40% each month. That's well above the national opening average of about 21%.
Please share the newsletter with friends, family and colleagues in the metro area and around the country. Keeping people informed about gun safety is vitally important to the success of the movement.
While our new format is still evolving, we plan more Member Spotlights and updates from our sister organizations in Washington state and Cape Cod, MA.
Legislative Update: the Good News and the Not-So-Good News
With both the Missouri and the Kansas Legislatures in session this month, it's important to know what's happening – and not.
Kansas: Seven firearms-related bills have been introduced in the House of Representatives, including penalties for discharging a weapon near a school, relinquishing weapons related to domestic violence incidents and instituting a Voluntary Do-Not-Sell-Firearms list. Only two bills are likely to gain traction: reciprocity for gun license holders from other states to carry concealed handguns in Kansas and a prohibition on carrying concealed handguns inside the Capitol Building in Topeka.
Only one bill has been introduced in the Senate: SB 192 (the Domestic Violence Firearm Relinquishment Act) that's scheduled for a hearing Wednesday, March 2nd at 10:30 am. For information regarding providing testimony, written or in-person, contact Carla Oppenheimer.
Missouri: Three bills have been introduced in the House of Representatives, including the Firearm Violence Prevention Act with a variety of potential solutions, among them Extreme Risk Protection Orders (ERPOs), a provision holding responsible a person who endangers the welfare of a child by failing to secure a firearm and a requirement that all sales or transfers of firearms be processed through a licensed firearms dealer.
Two bills of interest have been introduced in the Senate. One would expand the state's self-defense law, sometimes referred to as the Make Murder Legal Act, which is opposed by Missouri prosecutors. Read more: Missouri prosecutors criticize immunity for shooters bill. Some observers have said these laws do nothing to deter crime and instead encourage people to shoot first and ask questions later. Twenty-three states with stand your ground laws saw increases of 8% to 11% in monthly rates of gun homicide over a span of 16 years, according to The Trace newsletter of February 23, 2022.
The other Senate bill would prohibit persons convicted of domestic violence from owning firearms. This bill could close a loophole in Missouri's 2nd Amendment Protection Act, for which the state is being sued by the U.S. Department of Justice. Read more: Department of Justice sues Missouri over gun rights law.
Hope is slim for passage of any "good" bill introduced in either state. Sadly, Missouri and Kansas rank in the bottom five for states with the weakest gun laws, according to the Giffords Law Center's Annual Gun Law Scorecard. Read more here: Missouri and Kansas rank in bottom five for weakest gun laws nationwide, report finds. The entire report details the obvious: States with Strong Gun Laws See Less Gun Violence.
Now for some good news:
There's an encouraging update on the federally-proposed Ethan's Law (HR 748). Only nine more co-sponsors are needed to bring this child safety bill to the floor of the U.S. House of Representatives for debate. U.S. Representatives Sharice Davids (KS) and Emanuel Cleaver (MO) are the only co-sponsors so far from their respective state delegations. (There are a total of four representatives from Kansas and eight from Missouri.)
The proposed law requires a gun (loaded or unloaded) be properly stored so that individuals 18 years old and younger cannot access it. The bill is named in memory of 15-year-old Ethan Song who died in an accidental shooting while handling a gun at a friend's home.

GGS Advocacy Committee members Sheryl Porter, Helen Thompson and Jeannie Long have phoned other House members asking for their co-sponsorship. We anticipate the bill will pass the House and move to the Senate. When it does, we'll ask for your help calling senators to urge their support.
Mark Your Calendar
Tuesdays, March 8, 15, 22 and 29
Come meet Katie Cangelose, GGS' new Executive Assistant, at the GGS office
10:00 am to 2:00 pm
Colonial Church in Prairie Village
7039 Mission Road
Wednesday, March 9
ZOOM presentation How Did We Get Here? The Takeover of the NRA and Its Consequences.
An invitation from Cape Cod Grandmothers Against Gun Violence to hear William Sisk, Ph.D., of Candida Rockefeller College of Public Affairs and Policy at SUNY in Albany, New York.
Zoom Link: https://us02web.zoom.us/j/84669116435?pwd=THJQR2tESTZEc0lkaHV1dmh1djlWdz09
Meeting ID: 846 6911 6435
Passcode: 614593

Monday, March 28
GGS Monthly Meeting and Program: Homes for Vets: Working to Serve Those Who Served
4:00-5:30 pm
Colonial Church in Prairie Village
7039 Mission Road
Hybrid program in person & Zoom with link to come March 26.
Our Vision
All members of our community have the right to feel safe from gun violence.
Our Mission
Focus on working for solutions, educating the community and seeking common ground reform that respects the rights of gun owners and non-owners alike.
Copyright © 2022 Grandparents for Gun Safety, All rights reserved.
You are receiving this email because you opted in via our website.
Our mailing address is:
Grandparents for Gun Safety
P.O. Box 8617
Prairie Village, KS 66208-0617
Want to change how you receive these emails?
You can update your preferences or unsubscribe from this list.